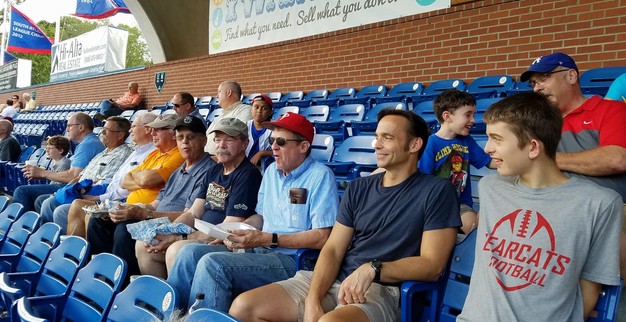 Dearly Beloved,
As many of you are aware, Kathy and I are in Florida for our grandson Tucker's first birthday. We are looking forward to a "grand ole time" hanging with the little man! We have a good bit of news around the parish so I am going to launch straight into what you need to know.

Men's Night at the Ballpark
It is time for our annual manly trip to watch our Asheville Tourists play. We were blessed to receive a packet of tickets from Blossman Gas, our propane vendor. Thanks to Jeff Wyatt for procuring them for us. We will be going on Tuesday, August 21, as the Tourists play the Augusta Green Jackets. The game begins at 7:00 p.m. We will meet at the church at 6:00 p.m. for the drive to the ballpark. Please sign up on the bulletin board to let us know you are coming so we can be sure we have enough tickets for everyone.

Construction Update
The siding went up on the south side of our office addition yesterday. We had hoped that our roof would be installed today. Unfortunately, the terrible weather we have experienced over the past several weeks has put the roofing contractor behind on his other jobs. He anticipates being here this coming Monday, August 13. Keep your fingers crossed!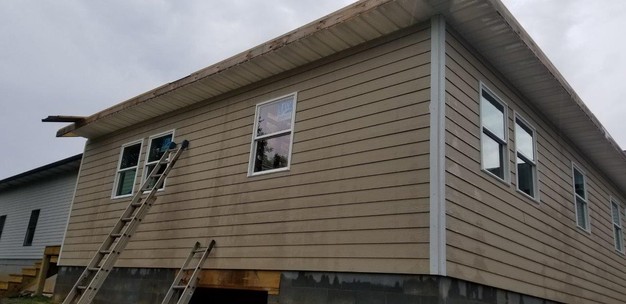 Annual Deanery Picnic
The annual deanery picnic for our churches in the area will be held on Saturday, August 25 from 12 Noon to 3:00 p.m. As you know, St. Timothy's Church in Swannanoa has hosted this event for many years. Unfortunately, because of the closing of St. Timothy's Church, another venue had to be chosen. This year's event will be held at the "Old Brick Church," 343 Old NC 63, Leicester, NC. Please sign up on the bulletin board so we can plan for how much we must cook on the grill. And bringing a dish to share would be greatly appreciated.

News of Note
Ashley Johnson will be having gall bladder surgery tomorrow morning, August 10. Please pray for a successful procedure and that she recovers quickly.

Cemetery Costs
After spending a few months surveying the costs of burial throughout Henderson County, the Vestry made the decision at its monthly meeting this past Monday to raise the costs of interment in our cemetery, effective January 1, 2019. Costs for maintaining the cemetery have risen dramatically since our cemetery was established over 25 years ago and this is the first time that interment costs are going up. We are letting you know about this so you can make a decision about your final arrangements. If you were intending to be laid to rest here, now is the time to make those arrangements before the prices go up next year. Please see Cynthia in the church office for more information or to make your arrangements. The current and future cost schedule is below.
Annual School Supply Drive
We wrap up our annual school supply drive this coming Sunday, August 12. Please bring in your items this weekend so we can get them to the kids and families that need them for the new school year.
Youth Fun Night
As promised, our youth will have their fun night on Wednesday evening, August 15th. We will start with Holy Communion, have dinner, and then playtime and ice cream. Grownups are more than welcome to join the kids for a classic hot dog dinner. See you then!
More announcements are below so keep on reading. Blessings to you all and see you in church!
Fr. Erich
This Week in the Parish
Sunday, August 12, Eleventh Sunday after Trinity
· 8:30 a.m., Holy Communion
· 11:00 a.m., Holy Communion
· No Fellowship Lunch this week
Wednesday, August 15
· 5:45 p.m., Youth Fun Night
· 6:00 p.m., Holy Communion
· 6:30 p.m., Fellowship Dinner
· 7:00 p.m., Choir Practice
Announcements
Craft Market 2018
· Tables are going fast! If you know someone who would like a table, please get a registration form from Barbara Conner or Cynthia Hensley today. The date for this year's event is Saturday, October 13. If you are a crafter, artist, knitter, etc. and would like to donate a few items to our All Saints Crafter's Guild table, please see Kathy Willis.

Ladies of All Saints
· Our summer Ladies Meeting will be held on Saturday, August 25 at 9:30 a.m. Please plan on coming out that day and helping us plan our upcoming events for autumn. A light breakfast will be served. All are welcome!

Craft Market Meeting
· Our next Craft Market meeting will be on Monday, August 20 at 9:30 a.m. We are in our final planning stages for this event. If you can volunteer on Saturday, October 13, please join us that morning or see Kathy Willis.

Looking Ahead
· Parish Workday: We will have a parish workday on Saturday, September 8, at 9:00 a.m. Come out and help us spruce up our building and grounds as we start the fall season here at church.
· Wednesday Bible Study: The Gospel of St. Matthew will be our book to study this fall. This is the most "Jewish" of our four Gospels. Come out and see why. Class reconvenes on September 12.
· Adult Sunday School: Our Sunday morning class for the adults of the parish will be back in session on September 16.
· Youth Sunday School: Our Youth Sunday School will return on Sunday, September 9.
· Tuesday Book Study: Our book study this fall will use Dietrich Bonhoeffer's Cost of Discipleship. The cost of the book is $10.00 and is available now. Please see Cynthia or Fr. Erich. Class will start on Tuesday, September 18.
Food Bank
· Bread of Life Ministry in Transylvania County is this month's recipient of our in-gathering of food stuffs.
Please follow and like us: