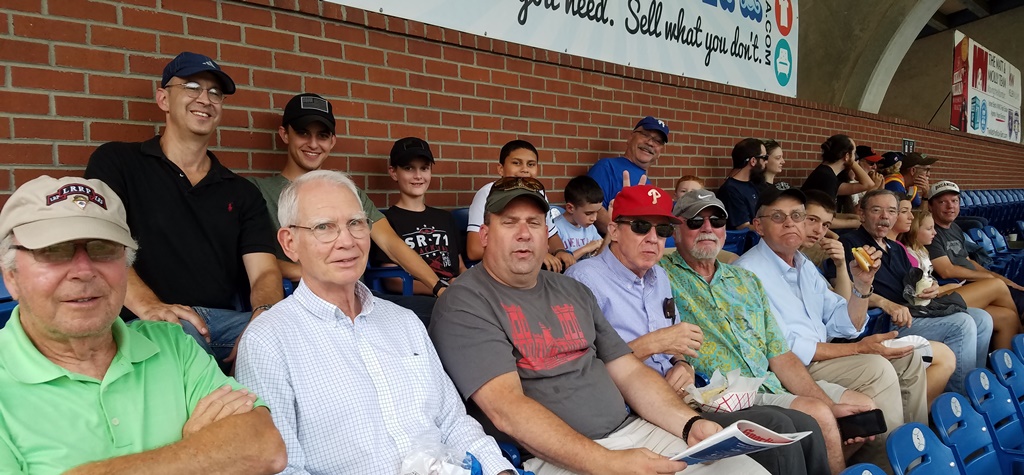 Dearly Beloved,As summer wanes, vacations are over, and schools come back into session, it is time to be certain to renew our commitments, as members of All Saints Church, to be in church every Sunday and involve ourselves in the life of this place. Scripture makes it clear we must be together as Christian people. We do not live solitary lives. We live in community. We do so for several reasons. One is so we can "bear one another's burdens, and so fulfill the law of Christ (Galatians 6:2)," which means we can encourage one another when together. When we are together, we are also assured of the presence of God, for Jesus told us, "Where two or three are gathered in my name, there am I in the midst of them (Matthew 18:20)." Being together is also a wonderful and joyful thing for God's people for "how good and pleasant it is when brothers dwell in unity (Psalm 133:1)!" Lastly, and most importantly, being with fellow believers fosters love. St. Paul, without equivocation, teaches that love is THE most important thing as he said in 1 Corinthians 13:13, "So faith, hope, love abide, these three; but the greatest of these is love." And it is together that love will truly grow and bind us together. "Put on then, as God's chosen ones, holy and beloved, compassion, kindness, lowliness, meekness, and patience, forbearing one another and, if one has a complaint against another, forgiving each other; as the Lord has forgiven you, so you also must forgive. And above all these put on love, which binds everything together in perfect harmony (Colossians 2:12-14)." It is together only, as the elect of God, that we can actually fulfill the law of Christ! See you in church! Now let's take a look at what is happening here, which is quite a bit. New Organist & Choir MasterI am pleased to report that we have been blessed to find another organist and choirmaster quickly. I have engaged Brian Weber of Weaverville. Brian moved to the area at the beginning of the year, moving here from New York. Brian has been an organist almost his entire life and has held positions in various churches in New York and Pennsylvania for the past 28 years. He studied at Westminster Choir College, Princeton, NJ. Brian also holds a B.S. in Chemical Engineering from Rensselaer Polytechnic Institute in Troy, NY. Brian will begin playing for us on September 2, but he will be here for choir practice this coming Wednesday night. Ladies of All Saints MeetingThe summer Ladies Meeting will be held tomorrow, Saturday, August 25 at 9:30 a.m. All of the ladies of the parish are encouraged to be here in the morning to help plan our upcoming events for autumn. A light breakfast will be served. Deanery PicnicThe Annual Deanery Picnic also will be tomorrow, Saturday, August 25, from 12:00—3:00 p.m. The location for this year's event is 343 Old N.C. 63, Leicester, NC 28748. Even if you didn't sign-up, please do come and join with our fellow Anglicans in the area. I have no doubt there will be plenty of food but you might consider bringing a side dish. The hamburgers and hotdogs are provided. Construction UpdateThe roof is finally on! That work was completed last Saturday morning, as you can see in the picture below. The basement slab work and the HVAC work are scheduled to begin this coming week and we are waiting to hear from the electrician for when he can begin his work. I just got word yesterday that the bell tower will arrive on either September 5th or 6th. I will let you know when we know the exact date so you can come out to watch it go up! Also, it is time for us to invest some "sweat equity" into our project. Read on in the next paragraph.
Parish WorkdayWe will have a parish workday on Saturday, September 8, beginning at 9:00 in the morning. As usual, it is a time for us to spruce up our building and grounds for the fall. But that day we will also demo the front wall of the church to prepare for the placement of the rock façade. We need all hands on deck that deck to make short work of all we need to accomplish. Bring your hammers, crowbars, shovels, rakes, and anything else you can think of to help us get the work done. See you then. Men's Night at the Ballpark18 of us guys (picture in the header above) had a fabulous time this past Tuesday night as we watched our Asheville Tourists beat the Augusta Green Jackets 10-9. We even ran into Gloria Hensley, and her husband Rick, who just happened to be there that night. The game was very exciting and we thoroughly enjoyed ourselves, as we always do when we hang out together. Can't wait til next year! Summer Youth Wednesdays Wrap-upOur Summer Youth Wednesdays wrapped up their summer on Wednesday, August 15, with the traditional water fun and ice cream party! The 19 young people present started the evening off by worshiping along with their parents and the adults of the parish. That was followed up by a hot dog supper in the parish hall. Then it was off to slide down a 100 foot long slip and slide on the back side of the church property. The night was topped off with a 12 foot long ice cream sundae, which eventually degenerated into the obligatory ice cream fight! Everyone is now waiting for next year! Check out some of the pictures below or
click here to see all the pictures on our website
.Upcoming EventsPlease take a look at everything scheduled for the next 2 months so that you will be sure not to miss a thing. Details are, and will be, in your weekly bulletins.
September 7, First Friday Kids Night
September 9, Youth Sunday School resumes
September 12, Wednesday Night Bible Study returns
September 16, Adult Sunday School begins again
September 18, Tuesday Book Study starts a new book
September 29, Blessing of the Animals
October 5, Fall Fish Fry
October 7, Cynthia Hensley's Setting Apart as Deaconess
October 13, Annual Craft Market
Always remember to keep this parish in your prayers and please always pray for others, especially those for whom no one else will pray this day. Blessings,Fr. Erich
This Week in the Parish
Saturday, August 25· 9:30 a.m., Ladies Meeting· 12:00 p.m., Deanery PicnicSunday, August 26, Thirteenth Sunday after Trinity· 8:30 a.m., Holy Communion· 11:00 a.m., Holy Communion· 12:15 p.m., Farewell Reception for Judy Rhodes· 6:30 p.m., Classical Scholars Open HouseMonday, August 27· 9:00 a.m., Classical Scholars school year beginsWednesday, August 29· 6:00 p.m., Holy Communion· 7:00 p.m., Choir Practice
Summer Youth Fun Day
Please follow and like us: