Dearly Beloved,We have quite a bit of news this week and so I will get straight to it! Summer Youth WednesdaysOur version of Vacation Bible School, Summer Youth Wednesdays, begins tomorrow, July 11. The focus this year will be on St. Paul the Apostle. We will actually be joined by St. Paul himself and his friend Dionysius. That should be quite fun!We will gather at 5:45 p.m. and then join the adults for Holy Communion at 6:00 p.m. Dinner will follow immediately after (grown-ups are more than welcome!) and then our other activities will begin. Our time together will be for 4 Wednesdays, ending August 1. Movie NightOn Wednesday, July 18, we will gather together to watch the recent movie Paul, Apostle of Christ. We will have Evening Prayer at 6:00 p.m., followed by dinner and watching the movie. The older children of the parish will watch the movie with the adults. The younger ones will continue with their Summer Youth Wednesday activities that night. Welcome Back!
We welcome back to All Saints Church Jon & Priscilla Hopkins. They were members here at All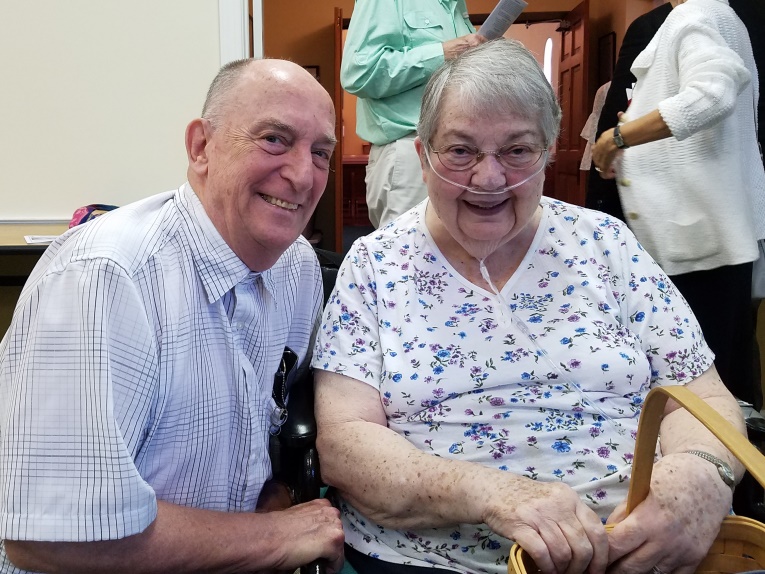 Saints before they ventured out with others to found St. Timothy's Church in Swannanoa. As you know, St. Timothy's closed earlier this year. But it is our joy to have Priscilla and Jon back with us.
Construction UpdateAfter a bit of a slowdown during the week of Independence Day, work has begun again in earnest. The windows for our office addition arrived last week and some were installed immediately. This week the soffits and siding are going up and prep work had begun for our bell tower. Please take care when you come on the property because the bell tower foundation work will make quite a mess at the southeast corner of the church building. Bob Brooks tells me that the roofing materials are scheduled to be delivered on July 23 and the roofer should install that week. As always,
go to our website news feed
to see the latest pictures of the construction. I have included some pictures below. New Altar HangingsWe have been blessed with a new green superfrontal, pulpit hanging and bible marker to match the communion vestments for the Trinity season. This allows us to "retire" the old coronation tapestry altar hangings and bring a more coordinated beauty to our altar for the Trinity half of the church year. Here is a picture showing the new materials.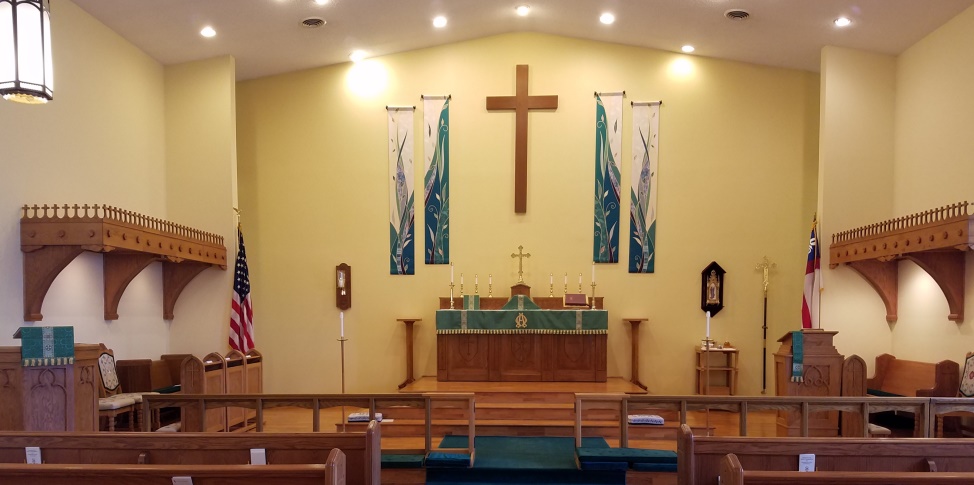 Update on Peter ZwingertAs you all know, Peter has been at Nuclear Power "A" School down in Goose Creek, SC. Yesterday, he passed his final comprehensive exam. He will be graduating this coming Friday. At his graduation, he will be promoted to Petty Officer. Needless to say, I am pretty proud of him! Kathy and I will be travelling down for his graduation so please keep us, and many of our family members, in your prayers for travel mercies. Diocesan SynodOur annual Diocesan Synod is next week in Charlotte. Alice Owen, Jeff Wyatt, and I are your delegates representing this parish. Paul Owen and Shelly Wyatt are the alternate delegates. One big item of interest for us is that Cynthia Hensley will be meeting with the Board of Examining Chaplains to take her final oral examinations for being set apart as a deaconess in Christ's Church. Her exam is on Monday, July 16, at 9:00 a.m. Please keep her in your prayers in this last step in her progress through the training program. News of NoteDennis Houghtaling is still convalescing at Stone Creek Rehab Center. He is getting stronger and, as you can imagine, he cannot wait to get home! Please pray for his continued rehab. News of Note #2David Hartig had surgery on his back at Mercy Hospital in Charlotte last Tuesday. He was released and has returned home. He has a long road to recovery. Please pray for a speedy recovery so that he might soon be back in church, praising God's holy Name. Annual School Supply DriveIt is that time of year to begin our annual school supply drive. We encourage all of you to involve yourselves in the gathering of supplies for children and their families who cannot afford these basic necessities for the upcoming school year. Boxes are available into which to drop your donations. A purchasing guide is available in your weekly bulletin. Need a shopper? Please see Sara Briggs or Sandy Peninger. And Don't ForgetRemember to keep your food donations going through the summer. Interfaith Assistance Ministry is this month's recipient.That is about all the news that is news for right now. Keep on praying for one another and, of course, pray for this parish family that all we might do here might be pleasing in the sight of God the Father Almighty! Blessings,Fr. Erich
This Week in the Parish
Wednesday, July 11· 5:45 p.m., Summer Youth Wednesdays· 6:00 p.m., Holy Communion· 6:30 p.m., Fellowship DinnerSunday, July 15, Seventh Sunday after Trinity· 8:30 a.m., Holy Communion· 9:45 a.m., Sunday School· 11:00 a.m., Holy Communion· 12:30 p.m., Fellowship LunchMonday-Friday, July 16-20Diocesan Synod in Charlotte· Office closed all week
Please follow and like us: